Updates for 2024-2025
With the enactment of the FAFSA Simplification Act on December 27, 2020, the Free Application for Federal Student Aid (FAFSA) has undergone several substantial changes set to take effect for the 2024-2025 aid year. Below is an overview of the primary updates along with preparation steps to ensure a smooth application process. We will continue to update this page as more information becomes available.
The FAFSA is Delayed!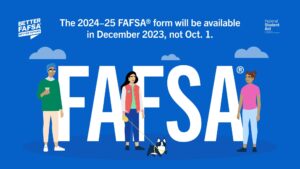 In previous years, the FAFSA has become available for students and families to complete on October 1st. Due to the changes to the FAFSA process this year, the 2024-25 FAFSA will not be available until December 2023.
Steps You Can Take NOW to Prepare:
What's changing with the FAFSA?
There are a number of benefits of the FAFSA simplification act, including a more streamlined application process and a better user experience for the FAFSA, expanded eligibility for federal student aid, and reduced barriers for certain student populations (e.g., homeless and unaccompanied youth, incarcerated students, English language learners, and students from low-income backgrounds).
Some fundamental changes include, but are not limited to:
What isn't changing?
General types of federal aid and student loan limits remain the same.
Annual FAFSA submission is still required for federal aid consideration.
Dependency status questions that determine if your parent(s) must complete the FAFSA will remain the same.
Deadlines for submitting the FAFSA form each year will not change.
Tax information will still be requested from the prior-prior year. This means you will report your 2022 income and assets on your 2024-25 application.
Questions regarding an applicant's sex, race, and ethnicity continue to be for statistical purposes and data collection only, with no impact on federal student aid eligibility. The school will not receive this data from the FAFSA.
Disclaimer
Due to the significant amount of changes that are occurring, portions of our website may not yet be 100% accurate for the 2024-2025 academic year. We'll continue to update this page as we receive more information from the Department of Education and Federal Student Aid, and appreciate your patience as we work to implement the changes brought by the FAFSA Simplification Act.
Please contact the Office of Student Financial Planning at financialplanning@mercer.edu for any inquiries or further clarification.